HOW IT WORKS
ZAGO high-tech sealing nuts are configured to bond with a rubber element, such as Silicone, Fluoro-silicone, Buna-N, and Viton, that when tightened to required torque value, squeezes outwardly and upon metal-to-metal contact, provides a 360 degree air-tight seal inside the thread as well as the circumference of the nut. This hermetic seal prevents airflow leakage, such as between pipe fittings or in a pneumatic pump , while blocking contaminants, like dust, moisture, oil, liquids, and gas, from entering and damaging high-asset equipment or leaking into and harming the environment. ZAGO sealing nuts are small yet tough enough to withstand extreme pressure, temperature and weather conditions, resist vibration and reduce noise.
ZAGO one-unit sealing nuts, available in hex, hex flange, acorn nut, and large pipe threading sealing nuts, are reusable and eliminate the need for sealing washers. They protect and prolong the lifespan of industrial machinery, factory automation equipment, power tools, hydraulic control systems and pressure valves.
ZAGO offers metric, inches and pipe threading options for nuts in a variety of materials, like steel, stainless steel, titanium, aluminum and copper, and a rubber element that meets Military Spec AS568. Food and medical-grade compliant rubber and DFARS parts are available upon request.
SPECIAL FEATURES INCLUDE:
Sealing water/moisture, air, dust, liquids, and other contaminants either in or out through the thread or bearing face
Reducing noise and vibration
Do not require any special installation
Metal-to-metal contact
No maintenance/re-tightening needed
Customizability
Reusability
THE RESULTS
ZAGO's self-sealing nuts and plugs are dependably resistant against the chemical and environmental elements ordinary nuts and plugs simply don't stand a chance against. They are user-friendly, cost-effective and environmentally sustainable solutions to any challenge you may face in the field, in the water, in the operating room, and beyond. Our Engineers are always happy to work with you as you select the best materials for your individual needs. Learn more about how ZAGO can create custom-tailored self-sealing nuts and plugs to meet all of your specifications by contacting us today.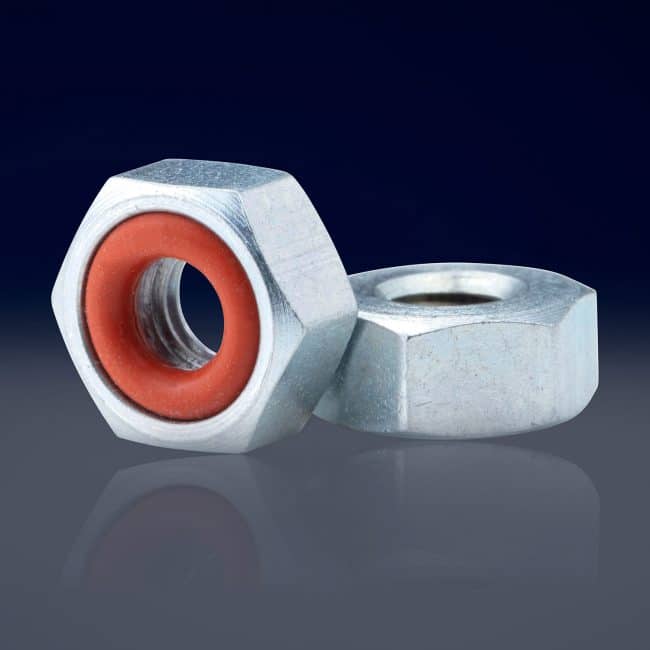 HEX SEALING NUT
ZAGO's hex sealing nuts are designed to withstand extreme pressure, and to form a complete seal along the threading of your bolt. Where liquids, gas, and contamination are present, it is crucial to use ZAGO's hex sealing nuts rather than ordinary nuts to ensure optimal performance from your equipment. We have bonded a silicone element directly into the heavy hex sealing nut, thus eliminate the need for you to use any messy liquid sealants. The rubber segment, when the nut is torqued, forms an unbeatable seal about the threading of your bolt that remains strong no matter the conditions it is exposed to.
ZAGO's one piece heavy hex seal nut grants you 360 degrees of sealing power whether its submerged under the ocean, launched into space, used for aviation, used in pneumatic or hydraulic systems, or in virtually any other application.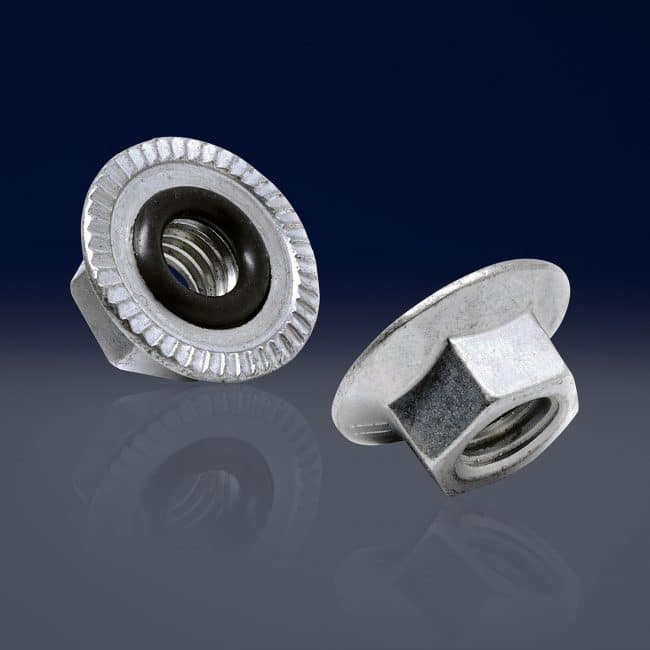 HEX FLANGE SEALING NUT
ZAGO's Hex Flange Sealing Nuts are powerful pieces of hardware which create superb seals. If your equipment is exposed to high pressure, contamination, or vibration, then protect it with ZAGO's hex flange sealing nuts. Our hex flange sealing nuts are unique because they are designed with an ingrained rubber element. The power of our sealing technology is unleashed when the nuts are torqued, causing the rubber element within them to form a vacuum-tight seal along the threading of the bolt.
We can customize our hex flange sealing nuts so that they are compatible with all types of conditions and environments. They can also be easily installed like ordinary nuts, with no special preparation on any kind. Their sleek, one piece-design means that you need not handle any chemicals or other messy substances in order to use them. The nuts are fully reusable and can be made from a combination of various types of rubber and steel.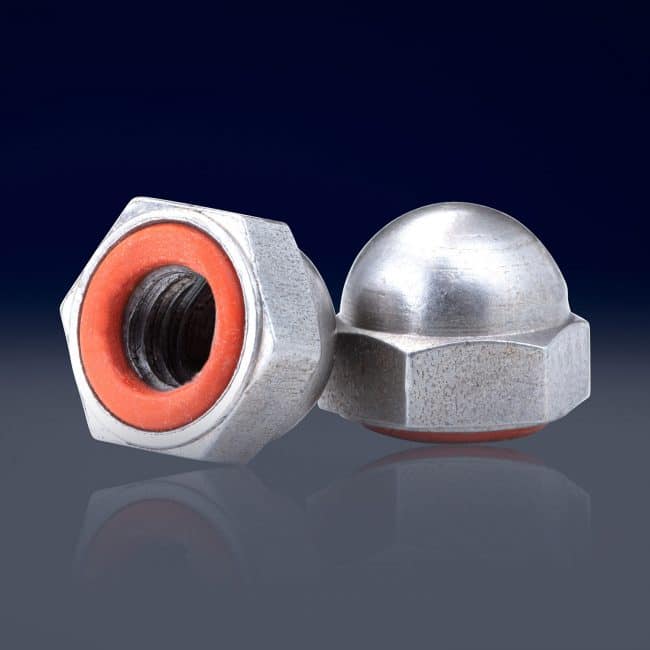 ACORN SEALING NUT
ZAGO's acorn sealing nuts are used in situations in which leakage, vibration, or environmental forces cause ordinary nuts to fail. Our acorn sealing nuts are not ordinary nuts; they are engineered with an advanced feature, a rubber fixture, which has been permanently bonded with the threading of the nut. When the nuts are torqued, the rubber element forms an air-tight seal along the threading of your bolt.